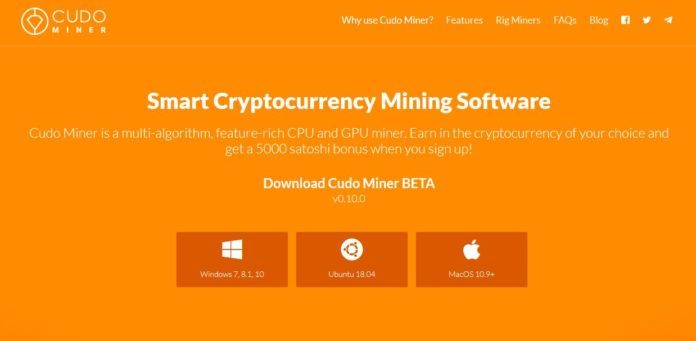 Now anyone can get access to the most advanced and easiest-to-use platform available – from novice through to professional level
Cryptocurrency mining company Cudo today announces the long-awaited open beta launch of its crypto-mining platform: Cudo Miner. An intelligent GUI miner with multi-algo switching technology built-in, Cudo Miner is the smart miner packed with features designed to optimise mining operations and maximise profitability.
The launch of Cudo Miner will be music to the ears of miners ranging from novice level through to pro. Once installed, Cudo Miner's software automates the entire process. In closed beta, thousands of users across the globe have mined using Cudo Miner.
Now for the smart part. Cudo Miner provides a smart layer within the software that ensures that the most profitable coin is mined, based on a user's hardware and fluctuations in the markets. What makes them unique though is that for the more experienced GPU and rig miners – Cudo Miner bridges the gap between GUI miners and traditional command line miners.
The features of Cudo Miner's smart mining software includes:
PAYMENT OPTIONS – users also have a choice of how they get paid – they can receive compensation through Ethereum or Bitcoin and additional coins will be included on the list in the future.
GPU OVERCLOCKING – built-in GPU overclocking and other features designed to boost profitability, further bridging the gap between traditional command line and GUI miners.
THIRD PARTY MINERS – Enable third party miners such as Z-enemy for Ravencoin and EWBF for Bitcoin Gold to increase your mining performance. New miners will be added regularly.
EASY-TO-USE INTERFACE – accessible for experts and novices. Download Cudo Miner and relax as the software automates the entire set-up for miners.
TWICE THE PROFITS – Week long comparison testing (28/12/18-3/1/19) shows Cudo Miner is more than twice as profitable as competing miners.
ADVANCED SETTINGS – Crypto enthusiasts with dedicated mining rigs can maximize earnings by tweaking algorithms on the "advanced settings" page, where they can also see the results of all their benchmarks. This is currently a time consuming manual task run via other mining software.
POWERFUL WEB CONSOLE – miners can examine data related to their mining performance, look at historic earnings, view hardware information and power levels, as well as keep a close eye on the health of their devices.
MULTIPLE COIN SUPPORT – able to mine multiple coins and switch between them based on which one is the most profitable at any given moment.
IDLE MINING – casual miners can leave Cudo Miner working in the background while they use their PC, ensuring that it does not interfere with their computer's performance.
Both Cudo Miner founders, Matt Hawkins and Duncan Cook, were motivated to create a platform accessible to all levels of mining experience and expertise, whilst ensuring the maximum chance of profitability. Despite the recent reports of crypto downturn, the two still believe mining offers huge opportunities. The two have also founded a charitable arm, Cudo Donate, whereby miners can convert their spare computing power into cash for charities of their choice.
To start mining, visit the Cudo Miner website
About Cudo
Cudo is a team of miners, techs and entrepreneurs. We're passionate about creating good with technology and we see blockchain and cryptocurrency as an amazing opportunity to do this. Our aim is to make a positive impact in the world for good and for technical change.
We want our technology to be a sustainable and ethical solution.
For further, press information, please contact:
Dan Walsh
+44 (0) 1753 656 661
Virtual currency is not legal tender, is not backed by the government, and accounts and value balances are not subject to consumer protections. The information does not constitute investment advice or an offer to invest.
MinerNews.io is is not responsible for the content of external sites and feeds.
You want the latest news about Crypto? Sign up to our weekly Newsletter!