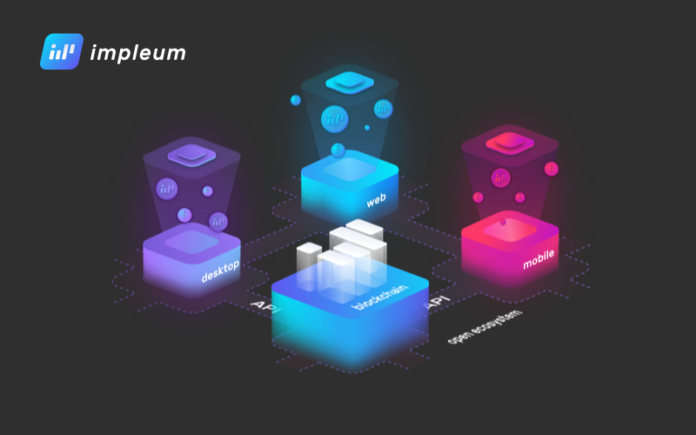 Bitcoin Press Release: Impleum is a powerful and scalable path to develop decentralized applications (DApps). DApps use the decentralised capabilities of blockchain technology and a layer of powerful service nodes to route information.
23 May, 2018. Kyiv, Ukraine: Impleum main chain currently hosts the IMP currency will be future hub for all sidechains. Impleum side chains allow businesses to easily deploy their own customised blockchains without the overheads inherent in running their own blockchain network infrastructure. Side chains will house all the data of your DApp, scaling effortlessly in tandem with your evolving project. Join the open ecosystem based on Impleum blockchain platform now.
Upcoming DApps
Quizi.io – webservice
Quizi is a powerful marketing tool. It is a service of convenient and informative quizzes and polls, the results of which are saved in the blockchain. They stay reliable and unchangeable forever. Discover answers to the most provocative question or pass the test and get reward in cryptocurrency. Settle the old dispute. Express your opinion and share it with your friends.
OldStyleRacing – mobile game
Old Style Racing is a classic time killer for iPhone and iPad. It was designed as a retro cars racing game. The game control is all about double tapping. Showing top results in this game is a tremendous challenge. The gist of the game comes down to maneuvering a car between barriers on the road and collecting coins. Coins can be exchanged for IMP. First you need to go to the account and withdraw your coins on your Impleum wallet.
What Impleum has to offer:
Instant. Impleum transactions are simple and efficient.
Private.All financial information, history and balance is confidential.
Secure. Transactions are backed up across hundreds of servers.
Staking. Forget power-hungry mining rigs – stake and earn interest.
Masternodes. Service nodes that allows Impleum DApps to scale off-chain.
Low fees. Impleum improves your savings with .001 transaction fees.
Impleum coin
Like any blockchain Impleum has its own coin – IMP, which has a set of unique technical parameters. IMP is a hybrid coin with PoW and PoS.
Mining Opportunities
Impleum hybrid coin, which based on a proof-of-stake (PoS) and proof-of-work (PoW). In the sense that PoW is used only for the initial distribution of the money supply.
PoS
Proof-of-Stake just is a mechanism that allows the network to confirm transactions and prevent fraud. However, it does not require any resource intensive calculations to be performed. The only requirement is to have some IMP coins in your ballance and keep your IMP Wallet connected to the network. Periodically, your balance will be increasing as new coins are awarded to you for your support of the IMP Network.
PoW
Impleum Proof-of-Work mining is the process of making computer hardware (CPU and GPU) do mathematical calculations for the Impleum network to confirm transactions and increase security. Mining algorithm is x13. As a reward for their services, Impleum miners can collect transaction fees for the transactions they confirm, along with newly created IMP. PoW block reward linearly reduces the reward of PoW block from 48 IMP to 0.48 IMP. Mining is a specialized and competitive market where the rewards are divided up according to how much calculation is done.
Masternodes
Impleum Masternodes are computers that are constantly connected to the Impleum Network and perform certain tasks allowing Impleum to achieve faster and more private transactions. To run the Impleum Masternode one is required to have a certain amount of IMP in their balance, as collateral, and fulfil other requirements imposed by the protocol. Designed to create a circulating coin supply, help provide the coin price stability needed for mass-market adoption, and reward quick investors with a more generous passive income.
A Proof of Stake Coin for Everyone
Staking your Impleum not only secures and stabilizes the network. It also rewards you with an annual interest rate based on the current block reward. The more you earn, the more earning potential you have. This key difference puts the earning power in your hands and not powerful mining cartels.
Cross-platform wallets
Impleum features accessible wallets through graphical user interfaces (GUIs) across all major operating systems (Windows, macOS, and Linux). Setting up your wallet takes minutes, and will encrypt your funds with the highest level of security, and allows you to stake your IMP for greater interest rewards over time. For more technical users, command line interface (CLI) wallets are also available.
Donate
Impleum team makes every effort to ensure that Impleum project has become the market leader in the blockchain industry. Impleum conducted a number of negotiations with the exchanges, with PoS Pools, large private telegram channels and other potential partners. Impleum is announcing an open IMP donate. All collected BTC will be distributed.
Supply and pre-mining
All pre-mining funds will be spent on development Impleum. Max Supply 100,000,000 coins. Only 1% of all coins will be pre-mined.
Road map
Q2. 2018. Mainnet release.
Q3. 2018. Listing on exchanges.
Q4. 2018. Masternodes up.
Q1. 2019. DApp open source SDK.
Visit the Website: https://impleum.com
Join on Discord: https://discordapp.gg/AyV8Ssa
Follow on Twitter: https://twitter.com/impleum
GitHub: https://github.com/impleum
Chat on Telegram: https://t.me/impleum_blockchain
Media Contact
Name: Serg Levi
Location: Kyiv
Email: [email protected]
Impleum is the source of this content. Virtual currency is not legal tender, is not backed by the government, and accounts and value balances are not subject to consumer protections. This press release is for informational purposes only. The information does not constitute investment advice or an offer to invest.
About Bitcoin PR Buzz -Bitcoin PR Buzz has been proudly serving the PR and marketing needs of Bitcoin and digital currency tech start-ups for over 5 years. Get your own professional Bitcoin Press Release. Click here for more information about Bitcoin PR