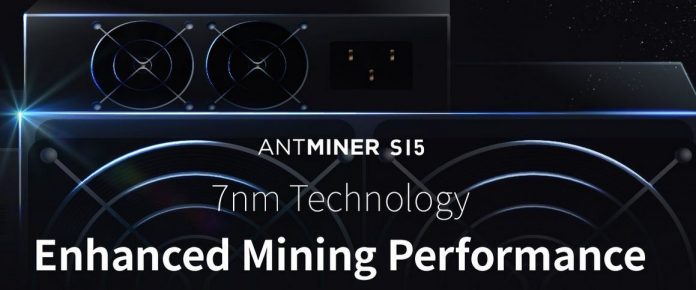 Mining Hardware manufacturer Bitmain Technologies has announced that the Company's latest Antminers, which are equipped with 7nm process technology semiconductors, will be available on November 8th. According to the China-based organization, Bitmain will launch two new models, the Antminer S15 and T15.
Bitmain plans to sell its new Antminer devices this week.
Bitmain will soon be selling new Antminers equipped with 7nm semiconductor technology. The company issued a statement on Tuesday saying that the two latest models, the S15 and the T15, will be available for purchase on Thursday, November 8th.
We are officially announcing the release of our new 7nm miners which possess industry-leading hash rates designed to mine with the SHA256 algorithm. Two models will be offered, the Antminer S15 and T15. Available for purchase on 11/8, Bitmain said on Twitter.
Bitmain claims that the energy efficiency of chips will be up to 42 joules per terahash.
On the company's website, there is a preview image of the machine, which differs significantly from the previous Antminer series. At the moment, the site overview, prices, specifications and photo gallery are not available for public viewing. The company's announcement on Wechat, however, stated that the S and T series SHA256 are miners capable of producing Bitcoin Cash (BCH) and Bitcoin Core (BTC) with a mining capacity of only 42 joules per terahash.
"The next generation chip integrates up to 1 billion transistors and is algorithmically optimized – with a unique circuit structure and low-power technology, the chip's efficiency will be up to 42 J / TH," the Bitmain announcement at Wechat said.
The profitability of the new devices for cryptocurrency mining depends heavily on the difficulty and difficulty rate of the BTC and BCH blockchains, as well as the price of the S and T series. The recent increase in duties imposed by Trump in the United States will again significantly increase American prices, thereby further reducing mining profitability in the United States. In addition to Bitmain, other manufacturers are also planning to quickly upgrade their devices to withstand the competition in the mining market.
For example, Canaan's Avalon 911 is powered by a 7nm semiconductor and is said to be operating at 18 terahashes per second (TH / s) and power consumption of 1440w. In June, GMO Internet had already announced more powerful hardware and already delivered in July.
While the GMO B2 delivered a hash performance of 24 TH / s, the successor GMO B3 already offers 33 TH / s. Power consumption increased significantly from 81 watts per TH / s to 103 W per TH / s. By comparison, Samsung's 10nm mining chip consumes an average of 94 watts per TH / s.
Virtual currency is not legal tender, is not backed by the government, and accounts and value balances are not subject to consumer protections. The information does not constitute investment advice or an offer to invest.
MinerNews.io is is not responsible for the content of external sites and feeds.
You want the latest news about Crypto? Sign up to our weekly Newsletter!