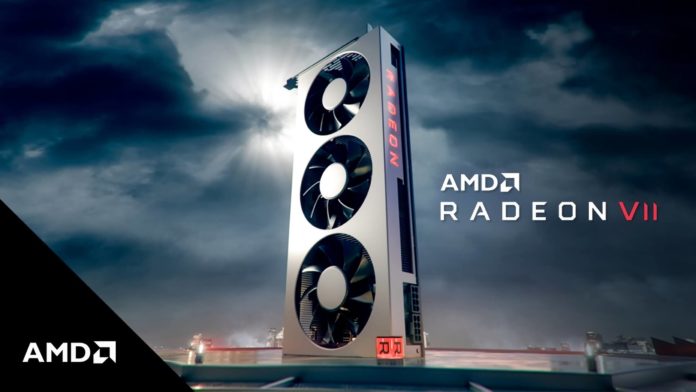 On February 7, AMD threw the Radeon VII into the ring against NVIDIA's GeForce RTX series. It was not enough for the performance crown in the gaming area, but we are primarily interested in the mining performance in relation to Ethereum – and that's exactly what we look at a little more closely.
What can the AMD Radeon VII do?
In essence, it is the second generation of the Vega core, which was already in the eponymous Radeon Vega cards used. AMD has changed production, namely, the new graphics cards are manufactured in 7-nm process. Together with the improvements in technology, higher clock rates, more HBM memory and further fine tuning, this should mean a higher performance also in the case of ETH Mining with simultaneously lower energy consumption. Since AMD also provides 16 GB of HBM2 memory for the Radeon VII (and no longer "just" 8 GB as its direct predecessors), in practice, especially memory-intensive crypto algorithms should benefit.
Better than the competition?
NVIDIA has created a stir with the RTX 20 × 0 series, especially in terms of price. Given the technological leap, this may be justified, but crypto-mining does not. The immensely expensive GeForce RTX 2080 Ti (currently ranked these graphics cards at just over € 1,000 (March 14, 2019)) brings it at Ethereum Mining to about 50 MH / s. Via Overclocking it is indeed possible to tease out a little more power here. Whether this is still worth considering in view of the higher power consumption is, however, another question.
The AMD Radeon VII, however, creates about 90 MH / s and costs only about 740 euros, and thus significantly less at the same time much higher performance. Given the gigantic difference, we can also put it straight to the point: If you buy the graphics card really only for mining, there is no reason to look at the offers of NVIDIA at all. AMD is currently clearly superior, and this could manifest itself more clearly with the appearance of Navi.
An absolute bargain is the AMD Radeon VII by the way not yet. The Sapphire Radeon RX 570 Nitro +, which we will discuss in more detail in the following section, also offers a pleasant performance and costs just under € 180. For the price of a single Radeon VII, you could already get four graphics cards of the older generation. Whether this is worth it or not depends, among other things, on your mining rig and electricity costs – but it's definitely an alternative.
The comparison to your own past
In order to be able to relate the hash performance a bit, a look at some graphics cards from the recent past helps. For example, in our test setup, a Radeon RX 570 Nitro + from Sapphire delivers about 30 MH / s at a consumption of about 133 watts. Initial tests (but not our own yet – coming later) in comparable environments show that the AMD Radeon VII at Ethereum Mining brings about 90 MH / s (at stick clock rates) to 95 MH / s (with maximum overclocking) (Source: reddit.com). Although the graphics card also consumes 300 to 308 watts, which is far above the consumption of the RX 570 Nitro +.
However, let's keep an eye on the efficiency, but we still notice that the conversion to 7nm has paid off: The AMD Radeon VII brings it in the ETH Mining to about 0.3 MH / s per watt, while the older solution from Sapphire only 0 , Brings 22 MH / s per watt – an increase of about 25% in terms of efficiency. Mind you: These are not yet our own tests, which of course we could do a little more precise. However, these results clearly show where the journey is heading. All in all, AMD's new appearance is much more efficient when it comes to ETH mining – and therefore worth buying if that's the focus.
Conclusion: a big hit – for mining
In terms of gaming performance, the AMD Radeon VII can not compete with NVIDIA's (but much more expensive) competitors. Fortunately, at least for us, this does not reflect the performance in the mining area. Here is AMD (unintentionally?) Made a big hit, because you will find a better efficiency in the market currently far and wide hardly. There are currently no higher hash rates for comparable energy consumption.
image by AMD
Virtual currency is not legal tender, is not backed by the government, and accounts and value balances are not subject to consumer protections. The information does not constitute investment advice or an offer to invest.
MinerNews.io is is not responsible for the content of external sites and feeds.
You want the latest news about Crypto? Sign up to our weekly Newsletter!