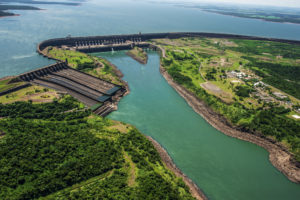 The Blockchain Technology Foundation's Commons Foundation announced on November 6 that it had signed a contract to build the world's largest cryptocurrency mining center and the international cryptocurrency exchange, with government support in Ciudad del Este.
The contract is designed to set up the five mining centers (covering an area of approximately 50,000 square meters) near the world's largest clean-energy power plant, the Itaipu hydroelectric power station, and a 15-year one while ensuring high-speed Internet networks and enacting laws for all necessary business for this project.
"Only 10 to 20 percent of the power generated by the Itaipu hydropower plant is consumed in Paraguay. More than 80 percent of the energy is exported abroad. We will be the world's largest mining center in Paraguay, using low-cost and abundant clean energy, "said Choi Yong-Kwan, chairman of the Commons Foundation."
According to the Commons Foundation, this deal allows us to focus on the "Golden Goose" project in Paraguay. In addition, the Commons Foundation announced that it plans to use MicroBitcoin (MBC), which is an open source project to which the Commons Foundation contributes. Project participants will receive a 30 percent interest in the profits of the Cryptocurrency Mining Center and 70 percent of the profits of the International Cryptocurrency Exchange, which will be paid out in MBC.
The Commons Foundation plans to pre-sell and offer to go public with the support of Paraguay's investments and to conclude a business agreement for the establishment of the Cryptocurrency Mining Center and the Cryptocurrency Exchange in Paraguay.
It plans to participate in the project through various methods, eg. For example, through the presale of MicroBitcoin (MBC), BTC (Bitcoin) and Ethereum (ETH).
Choi Yong-Kwan said:
"Through the Golden Goose project, we will create a new world-class ecosystem that is the world's largest cryptocurrency mining center and the world's largest cryptocurrency exchange."
"The Paraguayan government will actively support the Commons Foundation's 'Golden Goose' project and create tax breaks through constitutional reviews," said Hugo Velazquez Moreno, vice president of Paraguay."
The project marks the first milestone of building a blockchain ecosystem in South America.
Image by Shutterstock
The post Commons Foundation: 5 Mining Centers next to Hydropower in Paraguay appeared first on MinerNews.
You want the latest news about Crypto? Sign up to our weekly Newsletter!